Hi-Tech Equipment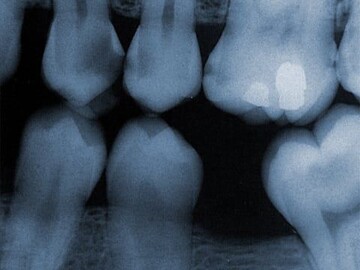 Our office uses the latest in digital x-ray technology. Digital x-rays offer a detailed image of your entire mouth and also offer up to 80% less radiation than traditional film x-rays.
X-rays play an invaluable role in the diagnosis of dental problems, as well as provide a clear picture for a dentist to accurately diagnose and provide the necessary treatment.
We place a small sensor in your mouth. The sensor is connected to a computer by a thin wire. Next, an x-ray beam is sent through your teeth and into the sensor, which records the image of your teeth and sends it to the computer. The sensor can then be repositioned to image other sections of your teeth.
The digital dental x-ray system is more sensitive than dental x-ray film systems, so your exposure to x-rays is cut by as much as 90 percent. The large and color-enhanced images let you see what your dentist sees, so it's easier for you to understand how your dentist will treat your teeth. Your dental checkups take less time, and it's fun to watch this system work! Most patients are amazed.
Dr. King, an Invisalign dentist in Glen Rock, often recommends an Invisalign procedure rather than traditional braces. Invisalign is the breakthrough technology that lets you have the smile you've always wanted without the hassle of braces. By using a series of clear, removable aligners, Invisalign straightens your teeth with results you'll notice sooner than you think. The course of treatment involves changing aligners approximately every two weeks, moving your teeth into straighter position step-by-step, until you have a more beautiful smile. And unlike conventional braces, these clear aligners can be removed while you eat and brush your teeth as usual. An average Invisalign course of treatment takes about a year.
The Invisalign Advantage Over Braces

When choosing an option for straitening your teeth, it's important to consider what works best for not only your appearance, but your lifestyle as well.

| Â  | INVISALIGN | BRACES |
| --- | --- | --- |
| Effectively treats a wide variety of cases, including crowding, spacing, crossbite, overbite and underbite. | X | X |
| Straightens your teeth | X | X |
| Average cost is about $5,000* | X | X |
| Allows you to eat whatever foods you enjoy | X | Â  |
| Lets you remove the device when you want | X | Â  |
| Lets you enjoy virtually invisible teeth-straightening | X | Â  |
| Allows you to brush and floss your teeth normally for better periodontal health | X | Â  |
| Consists of smooth, comfortable plastic instead of sharp metal that is more likely to irritate your cheeks and gums | X | Â  |
| Frees up your busy schedule, with office visits only every four to six weeks | X | Â  |
| Invisalign Teen: Provides up to six free replacement aligners if lost or broken.** | X | Â  |
* November 2010 Invisalign Patient Survey
** Invisalign Teen Only
Invisalign Website
Invisalign Self Assessment
Sonicare's unique, patented combination of high speed bristle motion with extra wide sweeping motion creates effective, yet gentle, dynamic fluid cleaning motion. You get excellent plaque removal, especially in hard-to-reach areas such as between and below the gum line. You can count on naturally whiter teeth and healthier gums.
Sonicare is excellent in battling gum disease, dry mouth, bad breath and tooth sensitivity. Its sweeping motion is very good in cleaning around dental restorations such as implants, crowns and veneers as well as cleaning braces.
An intra-oral camera allows the patient and doctor to view the condition of the mouth at the same time. This technology helps the patient understand and consider all the treatment options available for their situation.
The Zoom Whitening System is available in our office. This system can whiten teeth by an average of nine shades lighter in around an hour. Anyone who wants to brighten their smile can take advantage of this system, even individuals who have food, tobacco, or tetracycline stains can benefit from this procedure.